Video gaming culture has a long-standing tradition of basement workspaces. It started with kids in the '80s and '90s who would huddle in a basement with their NES or Nintendo 64. Today, video gamer basements aren't 12-inch televisions next to the washing machine. They're epic battle stations with luxe setups and cutting-edge technology.
As we look at the 10 best video gamer basements of 2021, we see a wide range of aesthetics and styles. There's also diverse game room setups with those who prioritize gear and those who develop innovative decoration ideas.
Which of these video gamer basements do you wish were in your home?
1. Neon Gamer Basement
Attribution: Wipspeed – Imgur
This homeowner's gaming room combined multi-colored light fixtures and minimalist black furniture. It's a classic game room design that's popular in many great game room design ideas. The owner says it was inspired by arcades from his youth. Get a close look at all of the consoles, technology, and wall art in a 2020 video tour of the basement.
2. Gamer Basements Aren't Always Finished
Attribution: fortierj – Reddit
This homeowner isn't going to let a lack of drywall or finished flooring stop them from creating an epic setup. The owner built the basement workstation after COVID-19 prompted many people to work from home. The best part is that it can go from a home office during the day to a gaming station after work.
Managing basement moisture and water is a key issue for basements. One commenter said, "The water pipes above your computer gave me nightmares." The owner responded, "If you really want to freak out, you should see the pipe to the septic tank right next to my network rack." We hope he doesn't live in an area with basement flooding.
3. Mid-Century Wood-Paneled Video Game Basement
Attribution: frank howarth – YouTube
Homeowner and woodworker Frank Howarth used his YouTube channel to share step-by-step videos of his basement remodeling project. The finished space feels like a second living room with a television, comfy couch, wood shelving, and a fireplace. It looks like the homeowner's teenage son really only cares about the gaming setup, though.
One of the bookcases is actually a secret door to a hidden storage room. The style of this basement is different from many other gaming setups. The homeowner said, "The thing that I like the most about this space is that we've made something very modern yet very warm, soft, and inviting."
4. Video Gamer Basement Jungle
Attribution: lithvi – Reddit
The home decoration in this basement takes center stage. The lush, textured space has lattice on the windows, plants, LED light strips, and fur accessories The combination of textures is accentuated by the custom-designed desktop wallpaper on the gamer's multiple monitors.
5. Basement eSports Room at Illinois State
Attribution: @FOS – Twitter
Last year, Illinois State University unveiled a new gaming center that it called The Vault. The space was designed for competitive gaming, but it will also be used for game design classes or for casual players with less gaming experience.
The rig includes 25 gaming PCs, each with gaming peripherals, high-end monitors, and gaming chairs. The dark-colored walls and backlit logo have made an impression on Illinois State fans. One user commented, "Where do I find the backlit bird head for my basement. #takemymoney."
6. Modern Basement Gaming Room
Attribution: Bokemoke – Reddit
This homeowner combined bold colors, edgy furnishings, and ambient lighting to create a modern man cave. It was a DIY renovation that had a budget of just $4,000.
Before the renovation, humidity and dampness were a problem in the room, but a moisture barrier transformed it into a comfortable room while also protecting the technology. One of the benefits of the space is its soundproofing, which means the room can also be used as a music studio without disturbing others in the household.
7. Retro Gamer Basement Recreating the 1980s
Attribution: Kirkwood1994 – Reddit
This retro basement was built during COVID-19 as a recreation of the gamer basements from the 1980s. On display are old Commodore PETs, a machine running Windows 98, floppy disks, and more. Gamer credentials include classic Pac-Man, which earned its legacy from early players as one of the greatest video games of all time.
8. Nerd Cave for Playing Video Games
Attribution: @lorimg_gamer – Instagram
When setting up the game room, this homeowner makes the most of the space through thoughtful arrangement of the furniture. On one side is the primary gaming area with a dedicated desk.
Another wall has a sofa that's opposite a pull-down projector screen. This can be lifted up to make the room entrance accessible, and it can be pulled down when they want to use the big screen or watch movies.
9. A Gamer Basement That's Family Friendly
The new basement/studio/setup is starting to get comfy (especially for my son who just wants to watch Garfield)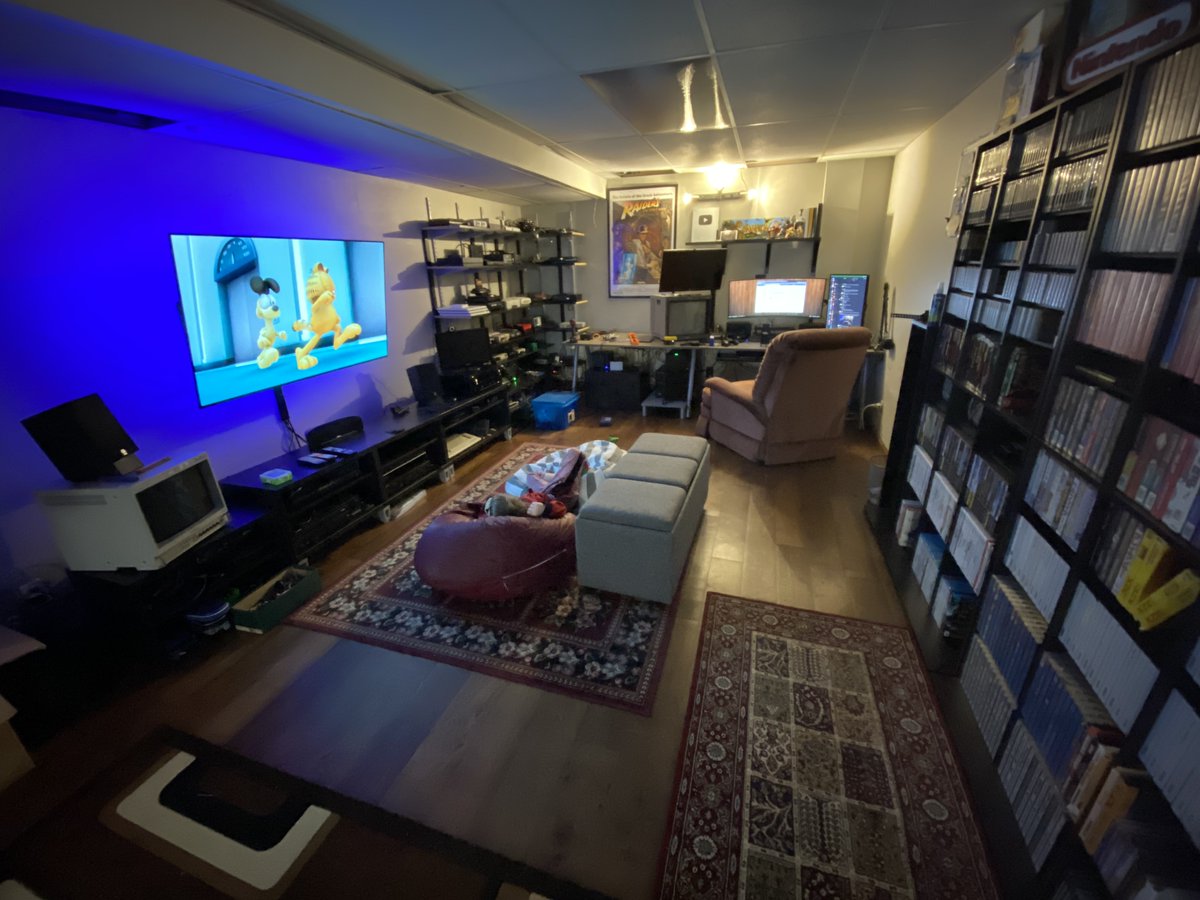 Originally tweeted by My Life in Gaming (@MyLifeInGaming) on February 6, 2020.
Attribution: @MyLifeInGaming – Twitter
This gamer needs to share his man cave with the rest of the family. That's why even though the technology, consoles, and storage are all designed around his love for gaming, the television is still used to play his son's favorite cartoons. A key aspect of this family-friendly video game room idea is the flooring that combines a hardwood look with area rugs, perfect for little ones who are crawling around.
10. Basement Game Room for a Console Collector
Attribution: BIG0H – Reddit
Collectors of gaming consoles know that storage can be a challenge, and so this homeowner has a great idea to build his own perfectly-sized shelving unit. With 24 individual cubbies, the gamer can keep a few consoles hooked up at a time, using a switcher box as a toggle. The rest of the room uses cube storage shelving that matches the console cubbies, but its dimensions are better suited for displaying collectables.
Do you want to transform your basement into the ultimate gamer paradise? Before you get your consoles, decor, and other gear out, you need to make sure your basement is safe and dry. Start your renovation with a free inspection with your local basement waterproofing experts.