Sump Pumps: Which One Is Best For Your Home?
For years, sump pumps have been used to remove groundwater in an attempt to stop leaking and flooding in your basement. Unfortunately, we now know when used alone, the sump pump just isn't enough.
However, when combined with other waterproofing products, a sump pump does an excellent job of keeping your basement dry.
In this article we'll discuss how sump pumps work and why they are essential in the Denver area to protect your home from water damage and find peace of mind with a reliable sump pump system.
---
How Sump Pumps Work
Just as the name implies, a sump pump is a small pump located in a pit at the lowest area of your home, typically a basement or crawl space.
When water enters the pit, either from the ground below, or a waterproofing system, and it reaches a specific level, the pump activates and pumps the water out of the home and away from the foundation.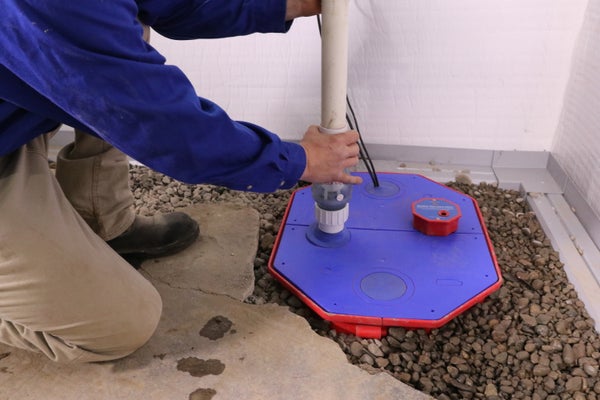 Why We Need Sump Pumps
While Colorado isn't wet like other states, sump pumps are often needed during certain times of the year. Read on to learn why homeowners in Denver may need to consider investing in a sump pump.
Snow Melt
Snow and winter activities are a major reason why many live in Colorado. Denver receives an average of 60 inches of snow per year. When all that snow melts, it can easily find its way into your home through cracks in your basement walls or where the floor and the wall meet.
Wet Season
Colorado is almost always in a state of drought. However, during the rainy season, typically April through May and again in August, sudden rain can cause homeowners big headaches.
Having a sump pump installed and ready takes the worry out of these times.
Underground Irrigation Canal
Irrigation canals running underground are common in and around the Colorado Springs area. So common that homeowners may not even know their home is built on a canal until they experience wet basement problems.
Installing a sump pump, and most likely a complete waterproofing system, is the only way to combat water in your basement.
Learn about Different Types of Sump Pumps
Determining the right type of pump for your home is one of the most important decisions you can make. We'll cover how sump pumps differ from each other and what may work best for your basement.
Primary Pump
The primary sump pump does the heavy lifting. It's responsible for the day-to-day removal of groundwater to keep your home dry. Different types of primary pumps exist, let's jump into a few.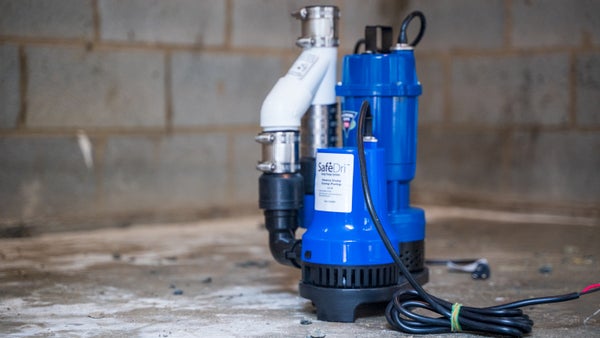 Submersible Sump Pump
A submersible pump is a primary pump that is fully submerged in the water at the bottom of the sump pit. When water enters the pit, it is immediately pumped out, shutting off when the water is removed.
While this type of pump may have more horsepower than other kinds, it also has a shorter lifespan and clogs easier than other options.
Pedestal Sump Pump
As the name implies, pedestal pumps sit on a support inside the sump pit. The pedestal allows for some water to enter the pit and naturally be reabsorbed into the ground before engaging the pump. This allows the pump to run less, reducing wear and tear, while still protecting the space.
Sewage Pump
Sewage pumps are different than the submersible and pedestal pump in that they can only be used for the purpose of pumping out sewage.
The sewage (solids and liquids) must be pumped from a sewage basin to a public sewer system or septic tank.
Backup Pumps
The backup pump shines when either the primary pump fails, or a power outage causes the pump to stop working. There are several options: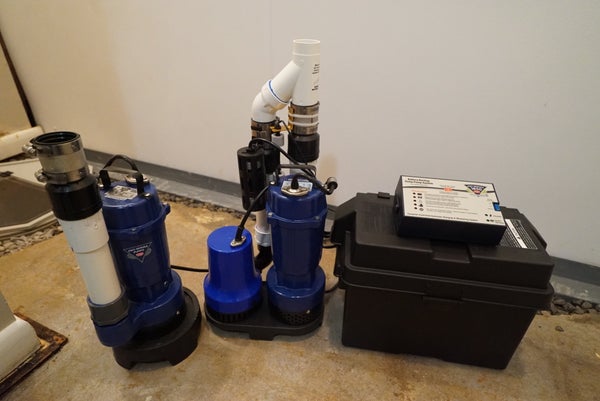 Battery Backup Sump Pump
This pump lives inside the sump pit and automatically activates if water reaches a certain level. Typically, this will happen when power is lost, or the primary pump can no longer do its job.
The pump usually has less power than the traditional primary pump and can only operate as long as the battery has power.
Water-Powered Backup Sump Pump
Less popular is the water-powered sump pump. This type of backup sump pump uses water pressure from the municipal water source to create suction to remove water.
This may sound ideal, but homeowners are often surprised by a big water bill since a lot of water is required to create pressure.
---
Choose a Professional to Install your Sump Pump
Regardless of the type of sump pump you choose, hiring a professional to install it is key.
From determining the proper location, to ensuring drainage pipes are extended far enough from the home, a professional foundation team member has the right tools to get the job done.
The experts at Groundworks have been installing sump pumps for decades and understand the troublesome bentonite soil in Colorado.
Schedule a free inspection today so you can rest easy knowing your home is protected from the effects of excess water.
FAQ
Ensuring your sump pump functions properly means hiring a company to service and maintain the pump annually or doing it yourself. To do so:
Clean the pit by removing debris and sediment
Test the pump by adding water and see how it works
Check discharge lines for ice or clogs
By maintaining your sump pump you can ensure it's ready to protect your basement when it's needed most.
If your pump fails, immediate action is required. If it was installed by a waterproofing specialist, be sure to reach out to schedule an appointment.
Meanwhile, troubleshoot by ensuring the pump is plugged in, the float switch is not stuck, and the discharge pipe is flowing smoothly.
Installing a sump sounds straightforward, but one misstep can result in serious water damage and wasted time and money. Consider choosing a professional to install your sump pump. A professional offers a long-term warranty, so you can rest easy that you're in good hands.
Service Areas
Groundworks is happy to help homeowners across the U.S., especially in Colorado where foundation damage is common because of bentonite clay soil. These areas include:
Denver
Boulder
Fort Collins
Littleton
Colorado Springs
Don't See Your Area? Check Here.