Expert Concrete Lifting in Colorado Springs
Sunken concrete slabs have met their match with polyurethane foam concrete lifting from Groundworks. Learn how to restore your concrete slabs.
Your Local Groundworks Office
We get it right the first time around.
We are experts at what we do, and you deserve the best customer service and repair solutions installed the right way. That's why we go the extra mile.
Colorado Springs Concrete Lifting
Take a look around. Concrete slabs are everywhere in Colorado Springs. From walkways, patios, porches to driveways and garage floors, concrete slabs make up a large amount of your exterior space. So, when you notice cracking, sinking, and uneven slabs, it's understandable to be upset.
When it comes to uneven concrete, it's more than visually problematic; it also presents a real danger to those with mobility issues. Safety hazards from tripping as well as damage to your vehicle, should not be overlooked. The biggest concern, however, may be the loss of property value. Not only will home buyers walk away, but your home will be worth less if your sunken concrete slabs are not repaired.
Groundworks offers cost-effective polyurethane foam injections to lift sunken concrete slabs to their original location. PolyRenewal™ is lightweight, durable, and won't wash out. Instead of relying on the soil beneath the slab, the polyurethane supports itself and can lift and stabilize walkways, driveways, patio, and pool decks in less than 20 minutes. Call today to schedule your free inspection.
Our Simple Process
1. Schedule Free Inspection
---
One of our contact center representatives will reach out to you to determine your problem and set the best time for one of our certified field inspectors to visit your home.
2. Consult with our certified inspector
---
Our certified field inspector will visit your home to observe the problems in your home and inspect other areas of your home that may have been impacted.
3. Installation of customized solutions
---
Our professional production crew installs patented solutions in each home with care and strives to leave the area better than we found it.
Why Is My Colorado Springs Concrete Slab Sinking?
When you're ready to repair your exterior concrete slabs, choosing a company and a repair method that works in your area is important. Colorado Springs soil is bentonite clay. This means water is absorbed, and the soil expands quickly. During dry periods, which are very common since Colorado Springs receives well below the average rainfall per year, the soil shrinks, causing voids. This causes slabs to sink since they are no longer supported. Of course, the sinking is never even, resulting in cracks.
Because of the unique soil, it's essential to choose a repair method that considers bentonite clay. Mudjacking or slab jacking are outdated repair solutions that rely on a slurry of concrete and mud to fill the voids created. However, this solution, as well as replacement, eventually yields the same results since they don't address the root cause of the problem, the volatile underlying soil.
Instead, choose long-lasting PolyRenewal™ from Groundworks. An eco-friendly polyurethane foam is used to fill voids. The foam is lightweight yet durable and won't wash out. That means the bentonite soil is no longer an issue. Plus, with a cure time of under 20 minutes, you can get back to your daily routine without interruption.
Common Concrete Problem Signs
PolyRenewal™ Installation
Groundworks offers an invasive-free, reliable solution to solve your sinking concrete slab problems. Learn more about how PolyRenewal™ is installed.
1 – Groundworks' concrete repair technicians access the area and determine the best location to level the slab.
2 – Small, penny-size holes are drilled into the slab, and ports are inserted.
3 – The two-part polymer is injected through the ports. The liquid reacts, and a foam is created; it gently expands to lift the slab.
4 – Our technicians are experts and gauge the amount of foam needed to fill the void and restore slabs to their original location.
5 – All holes are repaired and sealed.
6 – Since PolyRenewal™ requires no heavy equipment and materials, clean-up is easy. Typically, by the time it is completed, the slabs are ready for use…just 15 minutes after installation.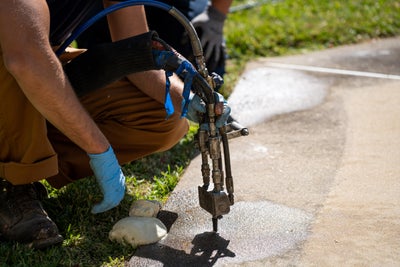 PolyRenewal™ can be used on a variety of projects from residential sidewalks, driveways, patios, concrete pool decks, garage floors to commercial factory floors and highways.
Best Concrete Lifting Services in Colorado Springs
When your exterior concrete looks worse for wear, call the experts at Groundworks. Their experienced team can repair your concrete driveway, pool deck, or walkway slabs and restore your home's safety and property value. Although DIY concrete repair could sound appealing, leave the delicate job to the professionals for an effective, long-lasting solution. Groundworks is affiliated with the most reputable home services companies and has thousands of positive online reviews. Call today to schedule your free concrete lifting inspection.
Services
Date & Time
Contact Info
Complete
Schedule Your Free Inspection
What do you need help with?