Foundation Repair & Crawl Space Encapsulation in Grand Island, NE
Groundworks, foundation solutions crafted with pride
Your home's foundation is the bedrock on which your life rests. But maintaining your home, especially the foundation, takes effort. In an area like Grand Island, Nebraska, where the climate and soil conditions do not provide any help, it's important to be aware of foundation damage. Signs of foundation problems include cracked walls, musty smells, and uneven concrete slabs.
The homes in Nebraska have foundation damage due to the soil and how it erodes. In Grand Island, NE and the surrounding areas, the silty loam soil that is mixed with sand erodes easily. Add in the area's year-round precipitation, both in the form of rain and snow, and foundation troubles become frequent. With 75 percent of the rain falling from April to September, it's a good idea to do a foundation inspection before the rainy season begins.
In addition to the precipitation, Grand Island homeowners also deal with occasional tornados and severe thunderstorms. Both these types of storms cause heavy wind damage, typically from the south, adding to the erosion problem.
The good news is that even with the problematic soil and weather, Groundworks can restore your home and make it structurally sound once again. We offer a free foundation inspection and discuss your home's foundation solution options. All repairs come with a long-term warranty to ensure peace of mind for years to come.
Free Inspection
Certified Structural Technicians
Personalized Repair Plan
No Interest Financing (for 12 months)
Long-Term Warranty
Visit Company (Opens in New Tab)
Visit Company (Opens in New Tab)
Visit Company (Opens in New Tab)
Recent Reviews for our Omaha Community
*CLS Foundations became part of Groundworks January 2022
I purchased a home in need of repairs. I looked around at different options to have a basement wall secured. I decided to go with Groundworks because the pricing was fair compared to other companies. Three men arrived, they worked very hard in the blistering cold to make sure the job was done correctly and professionally. Adriel explained in detail about the work being performed. They were on time when they said they would arrive, took great care of the house and did a fantastic job. After my experience with Adriel, I will recommend this company to friends and family. Thank you!!


Groundworks – Nebraska

Nick Waldron and Mike Wrenn both helped to plan and install an expansion joint in my driveway. Service was exceptional. Nick was very detailed in his explanation and helped me understand the value of the expansion joint installation. Mike arrived on time and got straight to work. He was very professional and efficient. I was very happy with the whole process. Very professional and will recommend.


Groundworks – Nebraska

We highly recommend Groundworks. Paul Winder was so professional and knowledgeable about what we needed to do to fix the foundation of our home. There were no pushy sales pitches and Paul was very honest and straight forward about what we needed and didn't need. With the financing they have to offer it's very affordable and we now have a peace of mind that our home will be solid for many years to come. Thank you Groundworks and Paul Winder.

Groundworks – Nebraska

CLS did a fantastic job on my home! From start to finish, ever CLS employee was helpful, kind and courteous. The work they did for me was done in a timely manner and they did a wonderful job picking up after themselves. I highly recommend using CLS!!

Groundworks – Nebraska

I had such a great experience with CLS. Dave, the owner personally came out to the house to give me a quote. I really like that the owner prefers to meet each client to fully understand the situation. The crew came out and was respectful and clean. They did a great job and the price was better than the other quotes I received. I highly recommend CLS.

Groundworks – Nebraska

CLS was a great company to work with. Very professional and friendly. When the job was completed,they even took the time to show and explain to my elderly mom the work they had done. Thank you CLS! Shout out to Brenda as well for her help.

Groundworks – Nebraska

After having water get into our basement, we needed someone right away. CLS was there the next day and took care of the issue. The crew was timely and easy to work with. Price was great. Would definitely recommend.

Groundworks – Nebraska

After looking around for someone to repair our foundation, CLS was the most reasonably priced. Dave and his crew were extremely professional and timely. The foundation repair was quick and the job was done very well.

Groundworks – Nebraska

I have been working with this company to repair several issues with our home after flooding. So far they have been amazing with answering all questions and responding to every email and phone call. Over the work is actually complete I will update my review.

Groundworks – Nebraska
Crawl Space Encapsulation in Grand Island
If you live above an untreated crawl space, sagging floors, musty odors, and a humid home are all too familiar problem signs. In Grand Island and elsewhere, old building science used to insist crawl space vents be installed. The idea being air could flow in and out, keeping the crawl space dry. We now know that this air transfer causes a lot more harm than good. When warm and cold air meet, water in the form of condensation forms. Condensation is a major red flag in a crawl space. Once noticed it should be addressed quickly before it results in serious damage. With the high levels of humidity in Grand Island and the surrounding areas, plus the frequent precipitation, vents are especially a poor idea.
One call to the crawl space experts at Groundworks can help put your mind at ease. Our patented crawl space encapsulation system uses a 20-mil thick vapor barrier liner on the walls and floor to seal out moisture and water and create a dry environment. All openings are sealed, including any existing vents, to ensure a superior solution as compared to the common 6-mil thick builder-grade liner that is often installed. Proper drainage is installed and an energy-efficient dehumidifier, specifically designed for crawl spaces, can be added if needed.
Depending on the structural condition of the crawl space, crawl space jacks like our SettleStop IntelliJack™ system may be the solution. When mold is left untreated, it weakens wood, leading to sagging or sloping floors. The SettleStop IntelliJack™ system is an adjustable support that will last for years to come. Made of strong, corrosion-resistant, galvanized steel, these jacks can be adjusted if the support needs of your home change.
Full Crawl Space Encapsulation
---
Foundation Repair Experts in Grand Island
When it comes to foundation problems due to the type of soil in the Grand Island region, they are not unheard of. Homeowners notice signs of a foundation sinking because the sandy silt-loam soil is prone to erosion. When soil washes out, it leaves gaps beneath your home. A foundation left without strong, stable soil for support will settle. Of course, settlement won't happen evenly. Typically, a home will settle to one side or the other, which is called differential settlement. The stress this settlement puts on the home can be seen almost everywhere. From sticking doors and windows, foundation cracks, tilting chimneys, and uneven floors, to gaps above door and window frames, if any of these signs are noticed, it's important to call the professionals at Groundworks right away.
Unfortunately, this foundation problem can happen regardless of the kind of foundation you have. Slab, basement, and crawl space foundations are all potential sinking foundation victims. The team at Groundworks has you covered. Instead of the costly and disruptive foundation replacement, the trained installation team can install strong steel piers to support and lift your home. This option ensures the soil surrounding your home is no longer responsible for stabilizing it. The weight of your home is transferred to a series of galvanized piers, driven deep into stable, virgin soil. These foundation repairs come with a long-term transferable warranty.
Expert Grand Island Basement Waterproofing
A musty, leaking basement is so common in the Grand Island area that homeowners forget that's not how basements should smell. The soil conditions and frequent temperature swings mean the soil around your foundation expands and contracts regularly, leaving gaps during the dry season. As water is introduced it is soaked up by the porous concrete building materials of your foundation where it sits until it finally finds its way in. Homeowners frequently notice water entering where the floor and the wall meet, called the cove, or through cracks in the wall. The concrete itself can also start to leak, although typically before that happens Grand Island homeowners will notice problem signs like efflorescence or mold first. This water intrusion is more than frustrating, as it can lead to health problems for your family and weakens the structural integrity of your home.
Our experts see this type of foundation problem every day and can quickly assess the situation and offer solutions to restore your home. An interior drainage system can be installed throughout the perimeter of your basement. This unique plastic drain accepts both groundwater and water leaking from walls and will never rust or break down. Once installed the floor is resealed, allowing a small lip to be the only reminder your basement is protected. This interior drain then ties into one of our revolutionary sump pumps. Depending on the severity of your water problem, you'll work with your inspector to select the right sump pump for your basement. Additionally, products like a wall covering or an energy-efficient dehumidifier can be installed for ultimate protection.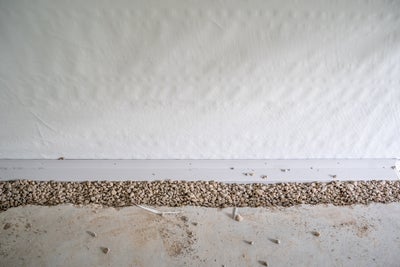 Common Basement Waterproofing Solutions
---
Concrete Lifting
The concrete slabs surrounding your Grand Island property sink for the same reason your foundation is prone to sinking—the soil conditions and climate. When the sandy silt-loam soil washes out beneath your slab you'll see immediate problem signs. Gaps or uneven, shifting slabs will appear in the sidewalk or driveway areas. A location where uneven concrete is especially troublesome is around a pool. Although it may not seem as major of a problem as a sinking home, concrete slabs left untreated steal value from your home and put the safety of your loved ones at risk.
Groundworks' SettleStop PolyRenewal™ injection foam is the perfect concrete lifting and stabilizing solution for your Grand Island area home. This revolutionary product perfectly lifts slabs by injecting the foam beneath the slab. It slowly restores slabs to their original position while ensuring a long-term solution. SettleStop PolyRenewal™ is waterproof, so it won't wash out, and with a cure time of about 20 minutes, there is little disruption to your home and family.
---
---
Call Groundworks for Foundation Repair in Grand Island
If you have sinking sidewalk slabs, a musty crawl space, bowing, leaking basement walls, or cracks in your brickwork, turn to the professionals at Groundworks. With more than 30 years of experience, we have been offering foundation inspections for both residential and commercial foundations throughout the If you're a homeowner in the Nebraska area, then Groundworks is your best choice for foundation repair, basement waterproofing, crawl space repair and encapsulation, and concrete lifting. We have more than 30 years of experience waterproofing and repairing foundations and know exactly what it takes to keep a foundation structurally sound. Our solutions come with long-term warranties. If you have a sinking foundation, bowed walls, leaking basement, or musty crawl space, then don't hesitate to contact us. We offer free inspections, and you'll receive a repair estimate and project timeline the same day!
---
---
Take the First Step Towards a Permanent Solution
Our team at Groundworks offers award-winning services in foundation repair, basement waterproofing, crawl space encapsulation, and concrete lifting. We have years of experience in the field working with the unique Grand Island homes and understand how the clay soil, humid climate and high annual precipitation levels impact your home.
Our basement waterproofing, foundation repair and crawl space repairs come with a transferable warranty, transparent pricing and a complete service department after the work is completed.
If you're having foundation problems, contact our experts to schedule a free inspection.
Visit Company (Opens in New Tab)
Visit Company (Opens in New Tab)
Visit Company (Opens in New Tab)
Services
Date & Time
Contact Info
Complete
Schedule Your Free Inspection
What do you need help with?