Papillion, NE Basement Waterproofing, Foundation Repair & Concrete Lifting
Groundworks, foundation solutions crafted with pride
A continental climate means Papillion, Nebraska, experiences warm summers and cold winters with moderate rainfall mainly concentrated in the warmer months. Although this creates a lovely environment for work and play, the extreme temperatures changes, and condensed rainfall timeline, leaves many wet properties across Papillion.
The climate alone would be enough to cause concern for homeowners with basements and crawl spaces, but combined with the fine sandy loamy soil, your home's foundation can also be at risk. Sandy loam soil is prone to washout leaving your home and your concrete slabs without the proper support. This causes your home to settle, leading to additional problems like cracked brickwork, sticking doors and windows, and uneven floors.
Since waterproofing, foundation, and concrete repair are all common concerns in the Papillion area, it's a good thing Groundworks has been restoring homeowner's foundations for more than 30 years. In that time they have seen it all, nothing surprises these professionals and there is no job too big. We offer free, no-obligation foundation inspections to educate you on your home's needs. Our solutions come with long-term warranties and financing options are available. Contact Groundworks to schedule your free inspection.
Free Inspection
Certified Structural Technicians
Personalized Repair Plan
No Interest Financing (for 12 months)
Long-Term Warranty
Visit Company (Opens in New Tab)
Visit Company (Opens in New Tab)
Visit Company (Opens in New Tab)
Recent Reviews for our Omaha Community
*CLS Foundations became part of Groundworks January 2022
I purchased a home in need of repairs. I looked around at different options to have a basement wall secured. I decided to go with Groundworks because the pricing was fair compared to other companies. Three men arrived, they worked very hard in the blistering cold to make sure the job was done correctly and professionally. Adriel explained in detail about the work being performed. They were on time when they said they would arrive, took great care of the house and did a fantastic job. After my experience with Adriel, I will recommend this company to friends and family. Thank you!!


Groundworks – Nebraska

Nick Waldron and Mike Wrenn both helped to plan and install an expansion joint in my driveway. Service was exceptional. Nick was very detailed in his explanation and helped me understand the value of the expansion joint installation. Mike arrived on time and got straight to work. He was very professional and efficient. I was very happy with the whole process. Very professional and will recommend.


Groundworks – Nebraska

We highly recommend Groundworks. Paul Winder was so professional and knowledgeable about what we needed to do to fix the foundation of our home. There were no pushy sales pitches and Paul was very honest and straight forward about what we needed and didn't need. With the financing they have to offer it's very affordable and we now have a peace of mind that our home will be solid for many years to come. Thank you Groundworks and Paul Winder.

Groundworks – Nebraska

CLS did a fantastic job on my home! From start to finish, ever CLS employee was helpful, kind and courteous. The work they did for me was done in a timely manner and they did a wonderful job picking up after themselves. I highly recommend using CLS!!

Groundworks – Nebraska

I had such a great experience with CLS. Dave, the owner personally came out to the house to give me a quote. I really like that the owner prefers to meet each client to fully understand the situation. The crew came out and was respectful and clean. They did a great job and the price was better than the other quotes I received. I highly recommend CLS.

Groundworks – Nebraska

CLS was a great company to work with. Very professional and friendly. When the job was completed,they even took the time to show and explain to my elderly mom the work they had done. Thank you CLS! Shout out to Brenda as well for her help.

Groundworks – Nebraska

After having water get into our basement, we needed someone right away. CLS was there the next day and took care of the issue. The crew was timely and easy to work with. Price was great. Would definitely recommend.

Groundworks – Nebraska

After looking around for someone to repair our foundation, CLS was the most reasonably priced. Dave and his crew were extremely professional and timely. The foundation repair was quick and the job was done very well.

Groundworks – Nebraska

I have been working with this company to repair several issues with our home after flooding. So far they have been amazing with answering all questions and responding to every email and phone call. Over the work is actually complete I will update my review.

Groundworks – Nebraska
Foundation Repair in Papillion
It's the previously mentioned Papillion sandy loam soil that causes the most foundation problems for homes in the area. Although the sandy loam soil drains well, meaning hydrostatic pressure isn't a common problem, it's foundation settlement that homeowners need to watch out for. Sandy soil has a tendency to wash out, and with the frequent summer rains that Papillion receives, settlement is definitely a cause for concern.
When the soil around your home washes out, your foundation is left without adequate support to bear the weight of the structure. Without this support, your home sinks until it meets resistance. Of course, the settlement isn't even, meaning one side sinks lower than the other. This uneven movement causes the symptoms Papillion homeowners notice. Cracked foundation walls, sticking doors and windows, nail pops, tilting chimneys, and gaps around door and window frames are just a couple of signs a foundation problem is occurring.
Long gone are the days when homeowners had to go through the incredible hassle of foundation replacement to solve home settlement. The team at Groundworks offers several foundation pier options. Your inspector will do a full inspection and determine the correct pier for your unique home. All our piers bypass the problematic unstable soil that caused the original problem and transfer the weight of your home to the pier that is driven deep into stable soil. This type of solution insures your home will remain stable for years to come.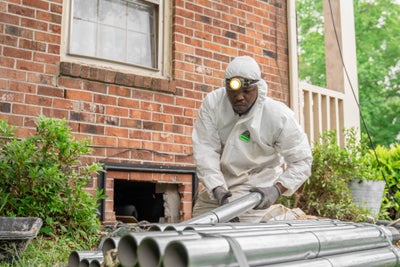 Foundation Repair Problem Signs
---
Papillion Basement Waterproofing
A flooded, smelly basement is a thorn in the side of many Papillion homeowners. Not only is it a mess to clean up, but it can also put the health of your foundation at risk. Mold, wood rot, and wall cracks are all too common issues for foundations that are not waterproofed. The warm weather summer months in Papillion also bring heavy rain, with three-fourths of the rainfall occurring during this time, if area homeowners don't have an interior drain system, and usually, a sump pump, they are looking at a lot of clean up and mold growth.
Groundworks offers a clog-free interior drain that eliminates the need for messy exterior excavation and the best line-up of sump pumps available. Depending on your basement, and the amount of time it has been leaking, other products such as AquaStop WallSeal™ or an energy-efficient dehumidifier may be needed. Your Groundworks inspector will review his inspection findings and offer suggestions to keep your basement dry and clean permanently.
Crawl Space Encapsulation in Papillion
Similar to basement waterproofing, water in your crawl space is a huge mess and a massive headache. However, many Papillion homeowners never visit their crawl space, and any water there can be there for weeks or months until it is addressed. Especially during the summer months in Papillion, when rainfall is frequent, continuous water in the crawl space means mold, mildew, musty odors, and wood rot.
One of the main problems with water in the crawl space is even after it dries, the water vapor, or humidity, remains. Trapped inside, it adds to the mold and mildew problem, weakening the structural integrity of the supporting wood and putting your home's foundation at risk.
Crawl space encapsulation is the best solution. Our high-quality 20-mil thick vapor barrier liner is sealed to walls and floors, enveloping the space and shutting it off from the outside world. Thermal insulation can be installed on the walls for additional energy savings, and drainage, like a specifically designed crawl space sump pump, is an excellent option.
Crawl Space Repair Solutions
---
Papillion Driveway & Patio Concrete Lifting
If the concrete slabs surrounding your home have sunk and are uneven, don't panic. Luckily the slab itself is still redeemable, it's the problematic soil beneath the slab that is no longer reliable. Sandy soil, like the kind most of Papillion deals with, easily washes out. Because of this, not only do you need a solution that will raise sunken slabs, but you also need an option that provides a material that won't wash out.
SettleStop PolyRenewal™ is a two-part polyurethane foam that is injected under the slab. When the two parts mix, a foam is created that gently expands to fill the void under the slab and then slowly lifts the slab to its original position.
The reason PolyRenewal™ is the perfect choice for homeowners is because of its waterproof formula. This means once the slab has been lifted, the foam won't wash out as the original soil did and like other older concrete lifting methods would.
The reason PolyRenewal™ is the perfect choice for homeowners is because of its waterproof formula. This means once the slab has been lifted, the foam won't wash out as the original soil did and like other older concrete lifting methods would.
---
---
Foundation Repair Experts in Papillion
Whether you are struggling with foundation cracks, a wet, leaking basement, or a musty crawl space, the experts at Groundworks have the solutions. Our products are designed and manufactured by us, so every aspect of the supply chain is managed for optimal effectiveness. Contact Groundworks for a free, no-obligation inspection.
---
---
Take the First Step Towards a Permanent Solution
Our team at Groundworks offers award-winning services in foundation repair, basement waterproofing, crawl space encapsulation, and concrete lifting. We have years of experience in the field working with the unique Papillion homes and understand how the clay soil, humid climate and high annual precipitation levels impact your home.
Our basement waterproofing, foundation repair and crawl space repairs come with a transferable warranty, transparent pricing and a complete service department after the work is completed.
If you're having foundation problems, contact our experts to schedule a free inspection.
Visit Company (Opens in New Tab)
Visit Company (Opens in New Tab)
Visit Company (Opens in New Tab)
Services
Date & Time
Contact Info
Complete
Schedule Your Free Inspection
What do you need help with?
Call a Groundworks Representative