Pool Deck Repair
Pool decks are exposed to constant use and weather conditions. This can lead to damage, including cracks and uneven surfaces.
Pool decks are an essential feature of any property with a swimming pool, offering a space for relaxation, entertainment, and enjoyment. However, over time, these areas can suffer from cracks and uneven section after constant exposure to water, weather elements, and foot traffic.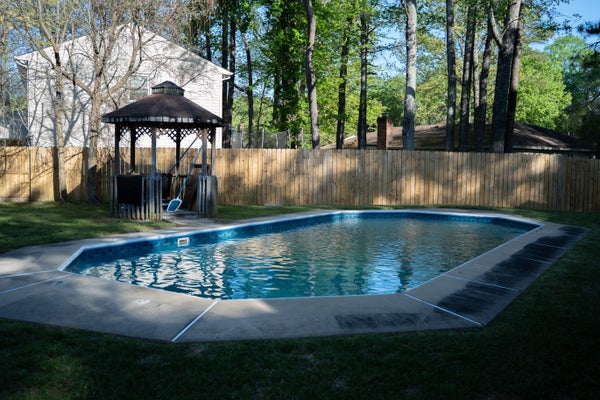 That's where Groundworks comes in. We specialize in providing top-tier concrete repair services and restoring your pool deck to its original position.
With an experienced, nationwide team equipped with advanced concrete lifting solutions, we make sure that your pool deck stays safe, beautiful, and relaxing again.
What is Pool Deck Repair?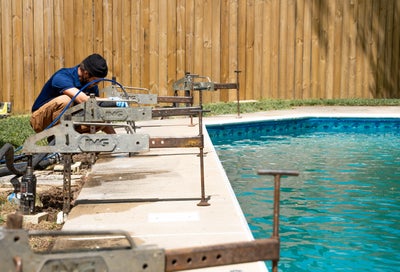 Pool deck repair from Groundworks addresses cracks, uneven surfaces, and sinking slabs with efficiency and precision. These issues have various causes, such as soil erosion, constant water exposure, or the natural wear and tear from use over time.
Ignoring these problems not only lowers the visual appeal of your pool area, but also leads to safety concerns, including tripping hazards and potential injury.
Using a modern concrete lifting technique called polyurethane injection, we repair your pool deck in a way that minimizes disruption, reduces cost, solves the root causes, and provides long-lasting results. You can see an example of the process in the image.
How Does Pool Deck Repair Benefit My Home?
A well-maintained pool deck enhances your home's aesthetic appeal and significantly contributes to its value and overall safety. Here's what pool deck repair can do for your home:
Boost your property's market value
Eliminate potential trip hazards, especially for children
Preserve the structural integrity of your property
Repairing a damaged pool deck aids with larger issues, such as soil erosion and sinking slabs, preventing damage that could spread to other concrete structures on your property or even your home's foundation.
How Do We Install Polyurethane Injection for Pool Deck Repair?
The installation of polyurethane injection is a straightforward process that follows a series of steps.
We drill small, strategically located holes into the damaged concrete slab.
Using specialized equipment, we inject the high-density polyurethane foam into these holes.
The foam rapidly expands beneath the slab, filling voids and lifting the slab back to its original level position.
We fill the holes and smooth the pool deck surface, leaving no trace of the repair work.
This process typically takes only a few hours, with the repaired pool deck ready for use almost immediately. This quick turnaround is one of the many reasons why polyurethane injection is a preferred method for pool deck repair.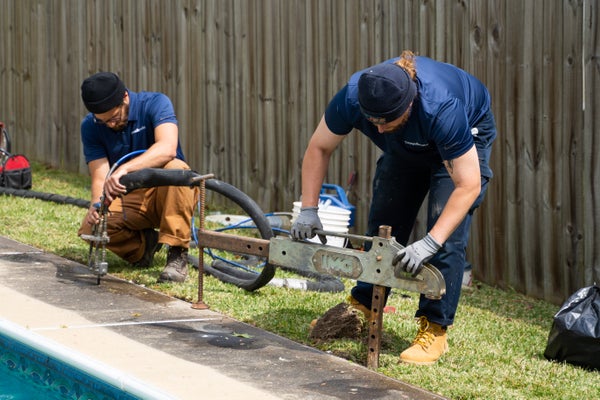 Trusting Groundworks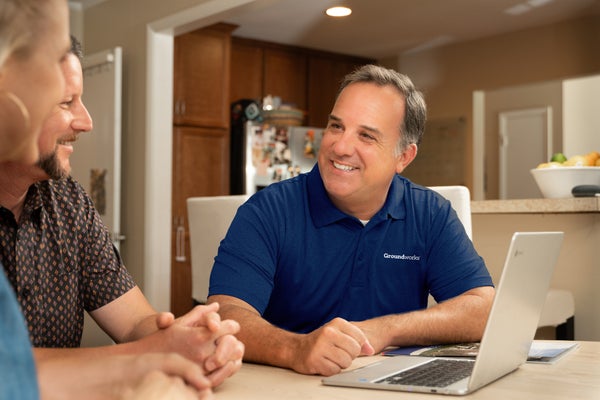 At Groundworks, we take pride in offering top-quality pool deck repair services. With local offices across 33 states, we've refined our skills and expertise to deliver the best services to our clients.
We employ cutting-edge technologies like polyurethane injections to deliver durable, cost-effective, and efficient repairs. Our fully licensed and trained team ensures that every job we undertake meets the highest industry standards.
We prioritize customer satisfaction and tirelessly work to uphold our reputation as a trusted leader in the field. Contact Groundworks for a free inspection and a long-term solution that restores the relaxing qualities of your pool deck.
National Reputation, Local Expertise. Find your local Groundworks company.