Sidewalk Repair
Sidewalks bear the brunt of daily use and weather conditions, leading to damage such as cracks and uneven slabs.
Maintaining the safety, aesthetics, and value of your property requires essential sidewalk repair.
Factors like soil movement and wear and tear can make sidewalks uneven over time, causing tripping hazards and reducing curb appeal. That's where Groundworks' concrete services can help.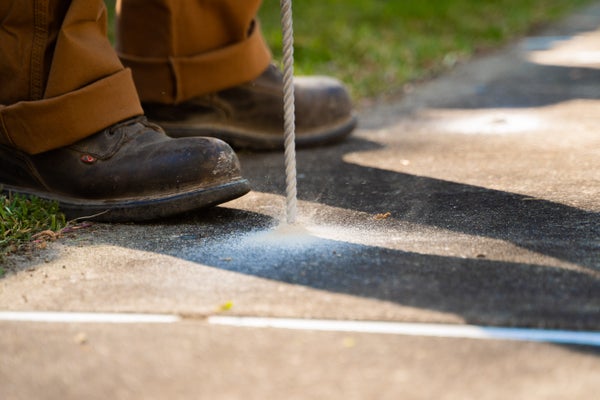 We use a state-of-the-art solution called PolyRenewal™, a polyurethane injection system providing a quick, effective, and durable method for sidewalk repair.
This technique not only restores your sidewalks but also ensures their long-term stability.
What is Sidewalk Repair?
Sidewalk repair from Groundworks fixes and prevents common concrete problems, including cracks, uneven surfaces, and sinking slabs. In sidewalks, these issues often result from:
Neglecting these issues harms your property's aesthetics and safety. While several sidewalk repair methods exist, many traditional ones don't last long and end up requiring complete concrete slab replacements – a costly and time-consuming task.
The modern polyurethane injection technique, favored by Groundworks, provides a more efficient and long-lasting solution.
How Does Sidewalk Repair Help My Home?
A well-maintained sidewalk has various benefits for your property. These include:
Boosts your home's curb appeal and value
Prevents tripping hazards
Stops concrete issues from spreading to foundation
By choosing polyurethane injection for sidewalk repair, you're choosing a durable, less invasive solution compared to traditional methods.
This process helps you dodge the cost and inconvenience of total slab replacement, making it a cost-effective choice for homeowners.
How Do We Install Polyurethane Injection for Sidewalk Repair?
The installation of PolyRenewal™ is a straightforward process that follows a series of steps.
We drill small, strategically located holes into the damaged concrete slab.
Using specialized equipment, we inject the high-density polyurethane foam into these holes.
The foam rapidly expands beneath the slab, filling voids and lifting the slab to a safer position.
We fill the holes and smooth the surface, leaving no trace of the repair work.
This entire process generally takes only a few hours, and PolyRenewal™ cures in just 15 minutes. This quick turnaround is one of the many reasons why polyurethane injection is a preferred method for sidewalk repair.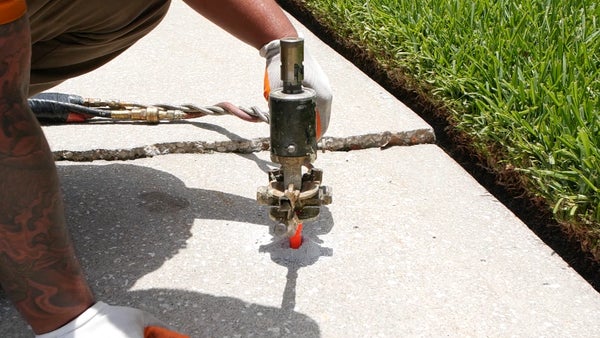 Trusting Groundworks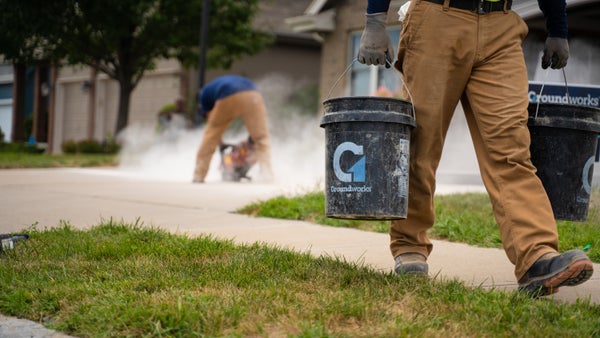 At Groundworks, we take pride in offering top-quality sidewalk repair services. With local offices in 33 states, we've continuously refined our skills and home repair expertise to deliver the best services to our customers.
We employ cutting-edge technologies like polyurethane injections to deliver durable, cost-effective, and efficient repairs. Our fully licensed and trained team ensures that every job we undertake meets the highest industry standards.
We prioritize customer satisfaction and tirelessly work to uphold our reputation as a trusted leader in the field. Contact Groundworks for a long-term solution that guarantees your home's safety for the long haul.
National Reputation, Local Expertise. Find your local Groundworks company.